451 tumpeng or cone shaped yellow rice 451st anniversary of Madiun. (Picture by: Humas Pemkab Madiun for TIMES Indonesia)
TIMESAUSTRALIA, MADIUN – There were 451 tumpeng or cone-shaped yellow rice lining up on the Rangga Jumena Hall Madiun. The tumpeng was meant to celebrate the 451st anniversary of the city.
These tumpeng was meant as a feast for all the guests on that celebration. Lots of people waiting for the ceremony ended to get the tasty flavoured tumpeng.
"We should lift every potential aspect of our city. The information technology has to be used well and responsible in a positive way," the Mayor of Madiun Ahmad Dawami said.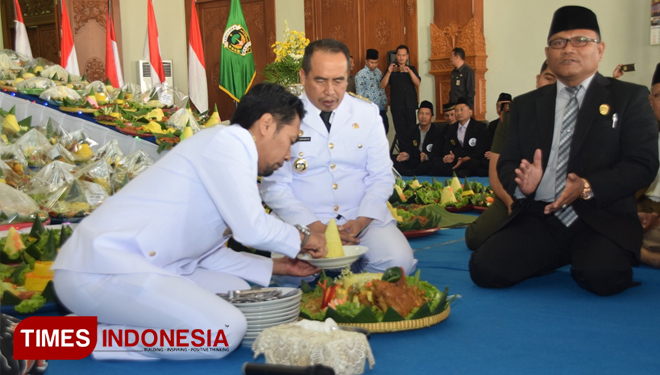 Still according to him, Madiun has also planned to raise the local martial arts 'Pencak silat'. They planned to make this martial arts as a common sport for the city.
Beside the 451 tumpeng or cone-shaped yellow rice, on the occasion there were also some performance from 14 martial arts school to entertain all the guests there. Some balloon also released to celebrate the 451st anniversary of Madiun. (*)